Product Overview
Due to poplular demand for an even larger All Natural Series cutting board made from one solid piece of wood (zero glues) we bring you the Simplicity XL PLUS.
Our All Natural Simplicity Series Line of cutting boards, perfect for all of your medium to heavy duty cutting needs. It is approximately 10.25 - 10.5"" Deep x 24" Wide x (1.25"-1 3/8") thick. (Sizes can vary slightly +-1/4"-3/8" as each of these are custom made from one piece of wood) This is the perfect sized board for someone who cooks large meals for large families, or likes a lot of room to work.
The XL PLUS is approximately 250 square inches of cutting surface. Compared to our already substantial All Natural Series XL it has 20 % more cutting surface (XL has 200 squ/in XL PLUS is 250 square inches of cutting surface).
The XL PLUS will have limited availability only as lumber is available, and is only available on Urthware.com, so if you see it on our site and would like one, remember, it may not be up on our site the next time you visit so buy them when you see them.

These boards are re-enforced with three high grade stainless steel heavy duty rods in the middle of the board to help stabilize the wood, reducing the chance of wood movement (warping).

It is hand made with care 100% in Canada using one solid piece of Canadian Hard Maple (no glue) which is sourced within 100 miles of our facility, and uses other all natural, and completely non-toxic materials.
We do NOT USE A MINERAL OIL FINISH like other cutting boards and wooden kitchen products, as mineral oil is a petroleum based product.
All of our products are finished in our very own 100% Organic Cutting board and butcher block finishes. Our finish is a blend of 100% Organic MCT Coconut oil blended with 100% Organic Palm wax (Carnauba wax) for increased water resistance and 100% Organic Canadian and USA beeswax from Canadian and US apiaries. We also offer a finish without beeswax for our Vegan customers though we very highly recommend our finish WITH beeswax.
Coconuts are NOT part of the tree nut family their name is a misnomer, as well they have antibacterial and anti fungal properties.

Hard Maple is one of the hardest, and most durable woods, and can withstand heavy use in a kitchen. ALL professional grade butcher block and cutting boards are made of Hard Maple. It is a closed grained hardwood (unlike oak, etc) that doesn't absorb bacteria easily, and with antibacterial properties on top of that it makes it the most preferred wood for cutting boards and wooden utensils.

The completely non-slip feet on this cutting board are made of hand cut all natural gum rubber, yes, natural rubber from a tree, NOT PVC or synthetic rubber, and they are affixed to the board with high grade stainless steel screws that will NEVER rust.
-100% Canadian made!
-100% Canadian Hard Maple sourced within 100 miles of our facility in Ontario Canada.
-Absolutely NO Glues or adhesives, made from a solid piece of Canadian Hard Maple
-Absolutely NO Fungicides, herbicides, or pesticides used during manufacturing (NO antisap stain coatings)
-Absolutely NO petroleum or synthetic finishes, only truly organic, natural, nature made finishes.
-A tree is planted for every Urthware board sold to offset our footprint.



PLEASE READ/NOTE:
*All cutting boards (regardless of finish chosen) use organic Beeswax to fill imperfections as well as to water seal the feet and re-enforcing bars.
*For residential use only


Imperfections:

This cutting board is made of one solid piece of face grain Canadian hard Maple. It contains NO GLUES or toxic adhesives of any sort and is completely natural. Remember, that because it is made with one piece of hard wood there are always some completely natural discolorations and imperfections like mineral staining, spalting, knots, etc. There may be darker and lighter areas as well. As we do not fill holes with epoxies or other toxic substances, we DO NOT sell cutting boards with holes, grooves, or any significant defects in the top of your board that could harbor bacteria, there can be some in the bottom or sides as it is not a cutting surface.

Wood movement:

For us to keep these cutting boards glue free and organic, we make them from one piece of wood, note that ALL wooden cutting boards, (and really anything made of wood) will display some movement (warping) from moisture, it can even be from weather change, and boards made from one piece of wood are, in general, more prone to warp than "glued up" edge grain cutting boards. It this happens we can not consider this a defect, we can do nothing about this as wood is a natural material that can and will move. You can usually avoid any excessive movement by keeping your board dry and well oiled.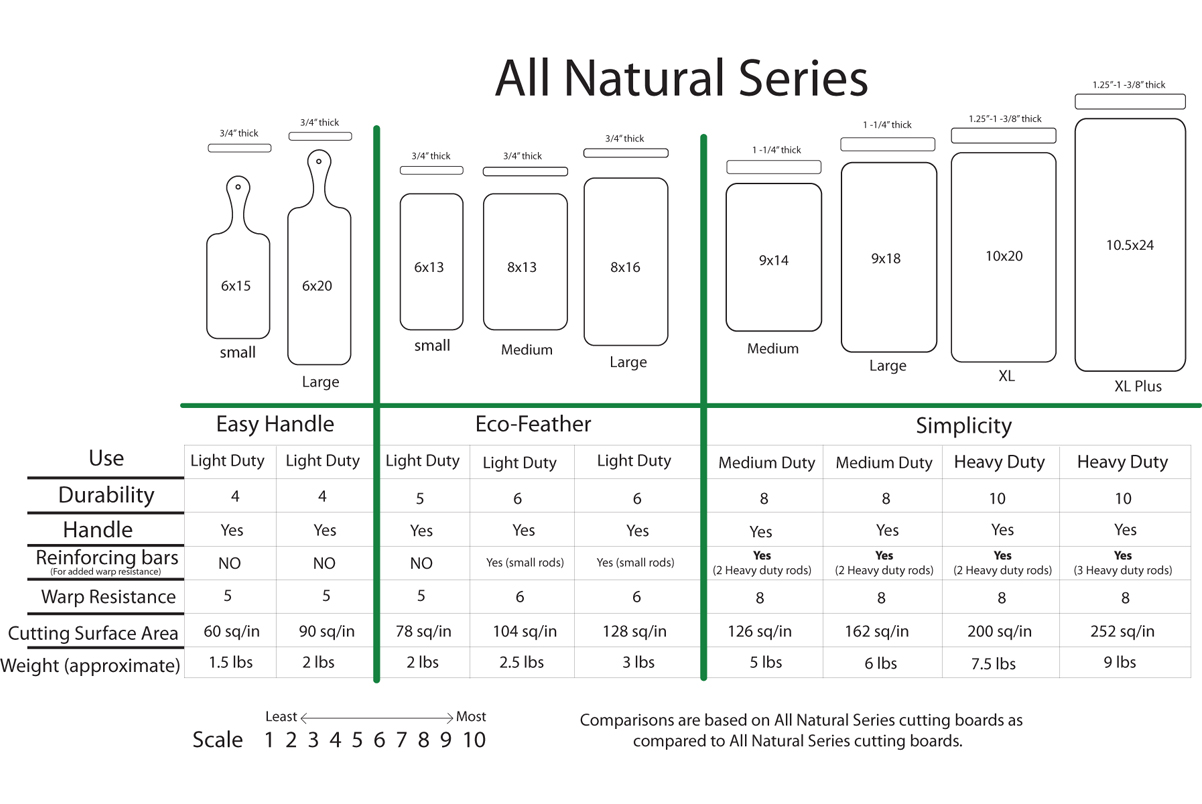 Note on maintenance: We do recommend that you purchase our organic oil/wax finishes at the same time that you purchase your cutting board as you will need to oil & wax your cutting board to maintain it, and it will save you significant shipping costs versus purchasing the finish at a later time, on their own. If you would like to use your own organic finishing oil, that is absolutely up to you, but we highly recommend ours. Remember that our finish waxes and oils contain 100% organic, high quality ingredients which increase the longevity of your board, which have been tested with our boards, and not using them may result in damage to your board. Maintaining any wooden cutting board with oil/wax is a must to help prevent staining, water absorption, and warping and cracking.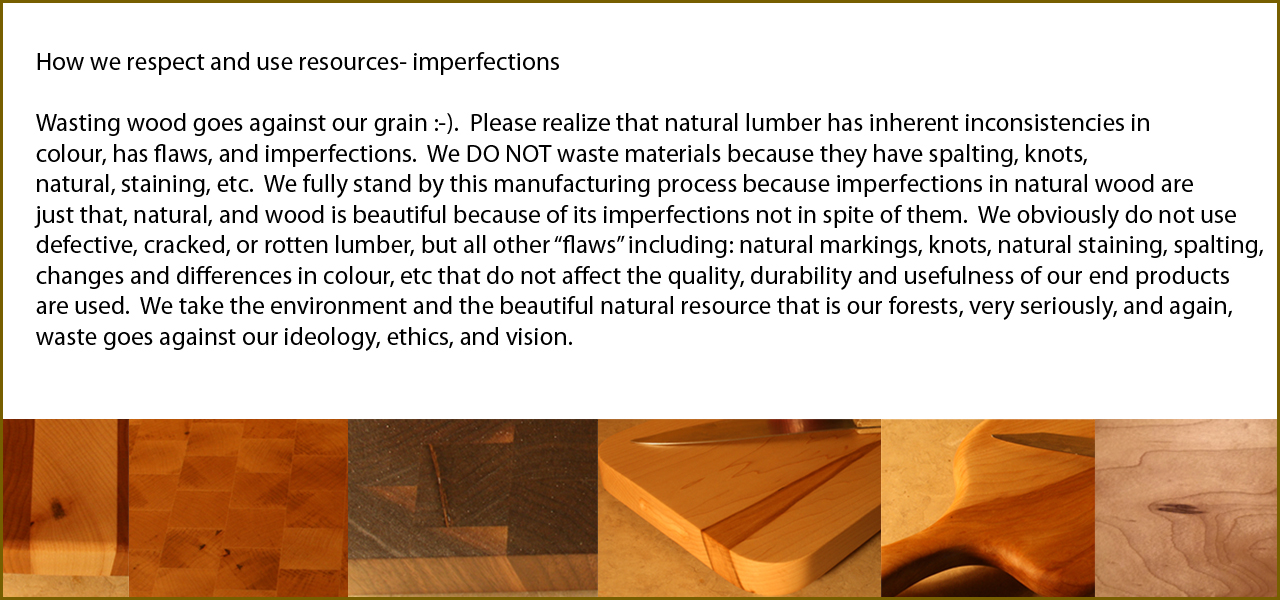 Reviews